There Was No One Like Butkus. Things I Think. Self-Checkout. The 1955 Brooklyn Dodgers. I Paid You!
---
I am a fan of the National Football League (NFL) for many reasons. Growing up in Miami, I had the Miami Dolphins, an expansion team that joined the NFL in 1970 following the merger of the NFL and the American Football League (AFL). In a matter of two years, led by coach Don Shula, the Dolphins went on to win back-to-back Super Bowls in 1972 and 1973. The Dolphins' "No-Name" defense was led by Nick Buoniconti, small in stature for a linebacker, but a relentless tackler as well as a team-leader. Fond memories which led me to always watch the middle linebacker position on any team.
Middle linebackers of the AFL/NFL era were always my favorite. Along with Buoniconti, there were many great linebackers who were fierce, great hitters, and feared by quarterbacks, running backs, and wide receivers cutting over the middle of the field. To name a few, Ray Nitschke, Bill Romanowski, Mike Singletary, Willie Lanier, Ray Lewis, Jack Lambert, and Harry Carson. All of them exemplified the role and responsibility of the middle linebacker position.
Not to discount my list or any other notable middle linebacker, the most feared and intimidating linebacker ever to play, in my book, was Dick Butkus. Nicknamed The Animal, The Enforcer, The Maestro of Mayhem, and The Robot of Destruction, Butkus wreaked havoc game-in, and game-out, with his menacing demeanor, relentless intensity, speed, and strength. Butkus was fast and at 6'3″ and 245 lbs., he was big compared to other players of that era. His speed was astonishing for his size, tracking down running backs and dropping back to cover passes over the middle. Butkus intercepted twenty-two passes in his career, astonishing for a middle linebacker.
Teammates and opponents alike marveled at Butkus' ferocity. He intimidated players like nobody else. "If I had a choice, I'd sooner go one-on-one with a grizzly bear," former Green Bay Packers running back MacArthur Lane said. "I prayed that I could get up every time Butkus hit me." In a video for NFL Films, John Facenda, in typically dramatic fashion, said Butkus played "with a religious fervor, with an unrelenting obsession not only to excel but to dominate and demoralize." This video is well worth your time to understand the impact Dick Butkus made on football. Butkus passed away last Thursday at the age of 80. Note: NFL Films with John Facenda's voice-over is still one of the best productions ever.
---
Things I Think For October 8
Completely wireless TVs – inevitable and there should be many interesting applications of these TVs in the very near future.
The Pacific – a ten-part series that premiered a decade ago. Acclaimed by many to be a better watch than the Band of Brothers, this series is based on the accounts of Marines in the Pacific theatre in World War II. Producers included Steven Spielberg and Tom Hanks so you know it is well done. After many weeks, I finished the series last Thursday night. Note: this series is extremely vivid and very gory.
Tech firms are racing to put artificial intelligence (AI) in small, wearable devices and gadgets. I am not sure how I feel about this.
I hope you are $1.4 billion richer after last night's Powerball drawing.
Sam Bankman-Fried. Was he an inexperienced nerd who could not manage a fast-growing crypto company, or is he all about fraud similar to Bernie Madoff?
I enjoyed watching golf's Ryder Cup, but I will say it is not the same without Tiger involved with the U.S. team at some level.
After all the time, consternation, and aggravation, retailers are finally rethinking their self-checkout strategies. "Some are finding that they still need employees to combat theft and assist with purchases." Duh.
---
The Major League Baseball (MLB) playoffs are in full swing. Great teams and great players in an era dictating rule changes including a pitch clock and larger bases. Due to the physicality of today's MLB players, it is difficult to compare today's players to the players of the past. The photo below shows a 'bobble-body" lineup of the 1955 Brooklyn Dodgers. With all due respect to the great teams we have watched in the last twenty-five years, this is the 1955 Brooklyn Dodgers lineup from left to right: 2B Jim Gilliam; SS Pee Wee Reese; CF Duke Snider; RF Carl Furillo; 1B Gil Hodges; 3B Jackie Robinson; LF Sandy Alomar; P Don Newcombe; Manager Walter Alston. I wonder what level of performance we would have with these players if they had grown up in this era of weight and speed training, contact lenses, nutrition, chartered jets for travel, and ballparks tailored for teams to score runs. Thoughts from the baseball people?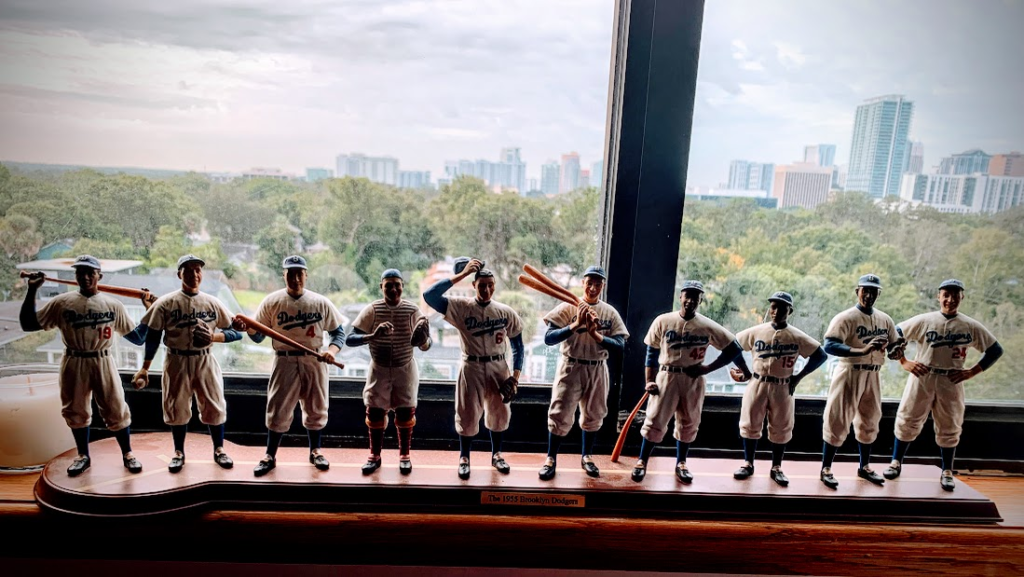 ---
Jo Koy is very funny. This bit discusses his seventh grader and the issues "they both are having" with math. Note: Jo Koy does not hold back with language.
---
Adios, pay it forward, be safe, and have a Sunday Funday!