Has The Fed Gone Overboard With Rate Hikes? An Unfortunate Decision And Venue. Daylight Savings Time. A Very Good Autobiography. Halloween Ends. Legends.
Back in the year 2001, we were all relatively happy that mortgage rates were hovering around 7%. We are not smiling now. Mortgage rates have more than doubled since the beginning of the year, as the Federal Reserve pursues an aggressive path of interest rate hikes to rein in high inflation. To the Fed: you may want to check your tactics with interest rate hikes as CNBC is reporting that mortgage demand from homebuyers is half of what it was one year ago. Pending home sales have plunged 31% from a year ago to their lowest level since 2010.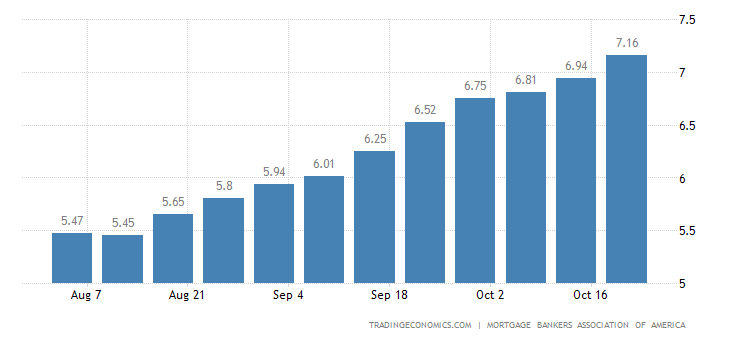 ---
The Headline of the Week: FDA Warns Against Using NyQuil As A Chicken Marinade.
---
There are three weeks until the most commercialized sporting event on earth. The World Cup, hosted by the country of Qatar, has the attention of many around the world and some of that attention is not exactly positive. Netflix's timing of this documentary provides an in depth look at FIFA, the governing body of football, and some very interesting insight into the how's and why's Qatar was selected as the host. The documentary premiers on Netflix on November 9 with the opening game of the World Cup on November 20.
---
Eat of the Week: My mother would make this about once a month, and now my daughter has perfected her recipe. It is cornflake chicken, and if you have never tried it, you should. Dipping chicken breasts or thighs into buttermilk and then coating the chicken with cornflakes…need I say more? Fantastic.
---
"Hello Darkness, my old friend, I've come to talk with you again." Darkness is really not my friend as next Sunday, November 6, marks the end of daylight savings time. Eighteen weeks of darkness settling upon us at around 5:30PM. Does anyone really like the end of daylight savings time?
---
I just finished "Bibi", Benjamin Netanyahu's eye-opening autobiography. Detailed and colorful, Netanyahu's life and career provides an account of his life, family, Israel, and the geopolitics of the Middle East. Not that I was fully aware, but Netanyahu accounts and describes the turbulent relationships and negotiations with Presidents Clinton, Obama, and Trump. I highly recommend this read.
---
He first made an appearance in 1978, and at the beginning of the original Halloween, the young boy does in his teenage sister. Years later, he escapes Smith's Grove Sanitarium and returns to his hometown in Illinois. He never stops stalking his teenage babysitter who is played by Jamie Lee Curtis. The story really begins there, but does it really end with Halloween Ends, now out in a theater near you? I know what all of you are thinking: "Who the heck goes to see these movies?" The answer is many, as the movie has grossed $716 million in the U.S. and $1.48 billion worldwide. That infamous music in the trailer is enough to make you uncomfortable, nevermind Michael Myers roaming the streets. Jamie Lee Curtis is back and she is not happy.
---
A legacy of rock and roll has passed on. The Beatles, Elton John, and other artists have said that his tone and timing, as well as his ability to make the piano a percussion instrument, greatly influenced their performances. RIP Jerry Lee Lewis.
---
We also lost former University of Georgia football coach and athletic director Vince Dooley on Friday of last week. A member of the College Football Hall of Fame, Dooley led the UGA program for twenty-five years, with the Bulldogs going 201-77-10 along with the 1980 National Championship and six SEC championships. Another legend – RIP Coach Dooley.
Adios, pay it forward, be safe and have a Funday Sunday!