A Mid-Year List of Top of Mind Things I Think. Celebrating 246.
---
At the mid-year mark of 2022, here are a few takes to ponder:
There are jokes and humor surrounding monkeypox, but in reality it is no laughing matter. The Department of Health and Human Services (HHS) has ordered 2.5 million doses of a vaccine to combat monkeypox. The Danish drugmaker, Bavarian Nordic A/S, is the only company with an approved vaccine for monkeypox. Do they and the HHS know something we do not?
I found myself in a good, old-fashioned, greatest of all time (GOAT) argument the other night. To the delight of many readers, this battle was not about soccer, but about baseball. The conversation came up due to the ridiculous amount of money Major League Baseball players, specifically pitchers, are pulling down in base salary and incentives. Many pitchers were offered up as the "GOAT", and I let the banter continue on before I offered up Greg Maddux. I had the opportunity to witness Maddux's pitching when he was with the Atlanta Braves between 1993-2003. Not to bore anyone, but these are the numbers on Maddux: He is the only pitcher in MLB history to win at least 15 games for 17 straight seasons. In addition, he holds the record for most Gold Gloves with 18, and most putouts by a pitcher with 546, including a tied live-ball-era record of 39 putouts in a season (1990, 1991, 1993). A superb control pitcher, Maddux won more games during the 1990s than any other pitcher and is 8th on the all-time career wins list with 355. Since the start of the post-1920 live-ball era, only Warren Spahn (363) recorded more career wins than Maddux. Maddux also has the most wins among pitchers who made their debuts after World War II. He is one of only ten pitchers ever to achieve both 300 wins and 3,000 strikeouts, and is the only pitcher to record more than 300 wins, more than 3,000 strikeouts and fewer than 1,000 walks (exactly 999 walks overall). Sure, I enjoyed watching Bob Gibson, Tom Seaver, Randy Johnson, Nolan Ryan, and Tom Glavine, but Greg Maddux often made the greatest hitters look foolish at the plate.
After U.S. stocks delivered the worst first-half drop in over fifty years, does anyone have thoughts to how the markets will perform in the second half of 2022?
Timing is everything. Of all times, NATO has changed out their Commander. Christopher G. Cavoli, a U.S. Army General, served in Bosnia and in combat with the 10th Mountain Division in Afghanistan. He commanded the seventh Army Training Group in Europe and was deputy commander of the 82nd Airborne Division and later the 25th Infantry Division. Nick A.: can you shed some light on how the General's background fits with commanding NATO and it's 300,000 troops?
Late last year, and with respect to his health, I predicted President Biden would not see out his presidency due to health concerns. He has proven me wrong mid-way through the year though the dismount of a bicycle may be the Secret Service's next training exercise.
Headline of the week: "Singapore Craft Beer Uses Recycled Sewage to Highlight Water Scarcity." I have no words.
Headline #2 of the week: "Where Will NASA Put The Artemis Base Camp on the Moon? Say what?
I am very open-minded to change as I have enjoyed many changes throughout my life tenure. With that said, USC and UCLA joining the Big Ten? I have not slept since this was announced. 🙂
Serious issues in Afghanistan, Ukraine, South Sudan, Central Republic of the Congo, Venezuela, Yemen, Ethiopia, and Libya, and there are many more socio-economic issues around the world. Talk with people familiar with the dire straits of Lebanon, once the Paris of the Middle East. As much as some of us bitch and gripe about the United States, and there is much to gripe about, Neil Young's Rockin' in The Free World gives us a bit of his unique perspective.
---
A very happy 4th of July weekend to you and yours. I hope that no one takes our Independence with a grain of salt, especially in light of some of the chaos, terrorism, and war happening at home and abroad. I was surprised that Independence Day was only declared a federal holiday in 1941, considering the United States is celebrating our 246th birthday. On July 2, 1776, the Continental Congress voted in favor of independence and two days later, on July 4, delegates from the thirteen colonies adopted the Declaration of Independence, drafted by the one and only Thomas Jefferson. If you have a flag, please fly it.  If you do not have one, The Home Depot, Lowe's, and Ace Hardware have flag kits for under $15.00. Buy a flag and fly it proudly. To our Canadian friends: you celebrated Canada Day this past week….and my experience with Canadians tells me most of you are still celebrating many days later!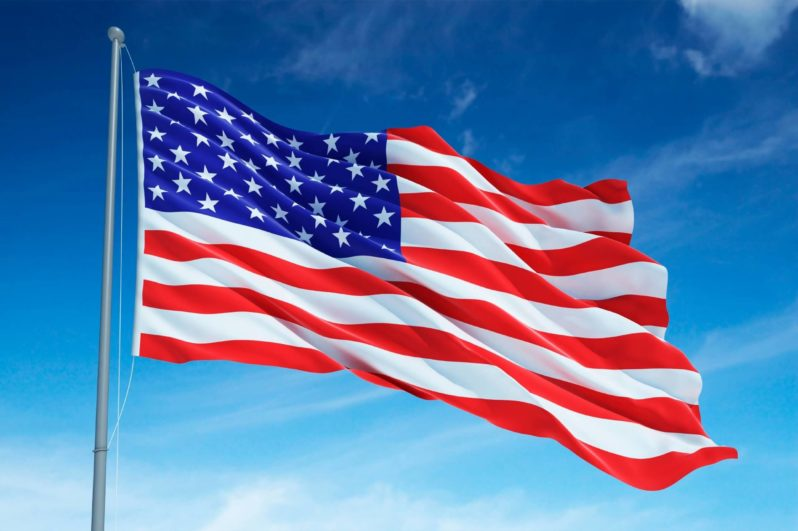 Adios, pay if forward, be safe, and have a Funday Sunday!