My View Is Not Jaded.
I have discussed this vertical takeoff 'air taxi' in previous posts – and for the first time we all get a look at a test flight from Lilium, a German-based aircraft technology company that utilizes emissions-free electric jet service. Their first U.S. vertiport will be developed and built in Orlando, Florida's fast-growing Lake Nona district. FAA approval is pending and will allow this fully electric jet service to shuttle passengers on short-haul routes between Orlando and Tampa, Jacksonville, and Ft. Lauderdale-Miami. It is very likely that vertiports and air taxi service will expand quickly to many major metropolitan areas.
Tiger Woods did the unthinkable after flipping his car just over a year ago. His decision to play at The Masters provided golf fans with expectations of his health and performance. He has a long way to go but maybe there is one more Major win left for him to take?
I do not have any answers or even suggestions on how a transit system or shopping mall can prevent someone from bringing a weapon or incendiary device onto a train or inside a mall. Terrorism or extremely sick individuals – what is the answer? This was my take, posted on August 20, 2020 – 20 months ago: The world continues to undergo a socio/economic change due to terrorist groups and other factions dovetailing off of horrific events. This past week the Charlottesville and Barcelona events showed the world that hate is not only prevalent, but now has become a factor affecting everyday life including travel, tourism, and worldwide stock markets. There is no end in sight and these types of events feed the television and social media network's content – which drives ratings and advertising dollars. It is interesting that after 9/11, people all over the world seemed to take a step back, offered up kindness, and in general just got along… understanding the shock and horror from a few deranged terrorists. Can you stop someone from renting or stealing a car and driving it into a crowd of people? Can you convince racists that their efforts would be better spent organizing charity events instead of hating people that just happen to have a different skin color? There is an island somewhere in the far reaches of this planet for all these people…in my mind, that is the only solution. Other than then Covid and its variants slowing down, has anything really changed in the last 20 months?.
I proposed this idea and business service to a friend of mine years ago: create a cord-cutting platform that provides consumers with a simple way, based on their television viewing wants and needs, to select streaming services from one online portal with a menu of options. One-stop selection, one invoice, and one customer service outlet. "A Streaming Service Aggregator." It is a bit of a daunting business proposition, but if anyone is up to discussing the idea…I am all ears. Serious.
I am very surprised that I have received few comments from readers on the sad situation in Ukraine. Do you feel like the United States is doing enough? Does the NATO charter prevent the U.S. from doing more? How long can NATO and non-NATO countries stand by and watch the horror Vladimir Putin is inflicting on Ukraine and its citizens? Someone correct me if I am wrong: Has the U.S., in previous conflicts, not employed its armed forces to try and stop warring factions across the world? I would like your take please.
My favorite boat, without a doubt, was my 27′ pontoon boat – basically a floating living room. Now, without regard to costs, I have found my new favorite boat. By volume, it is the world's largest yacht, with two helipads, a salon, gym, and the largest swimming pool ever installed on a yacht (25 meters). There are accommodations for thirty-six (which for me is 32 too many), and the yacht is valued at $735 million. The upside: it only costs $5 million a month to maintain. You will need to negotiate the purchase of the yacht with the German government, as they seized the ship last month when it docked at the port of Hamburg. It seems the yacht is owned by the sister of a Russian oligarch. Sanctions are sanctions.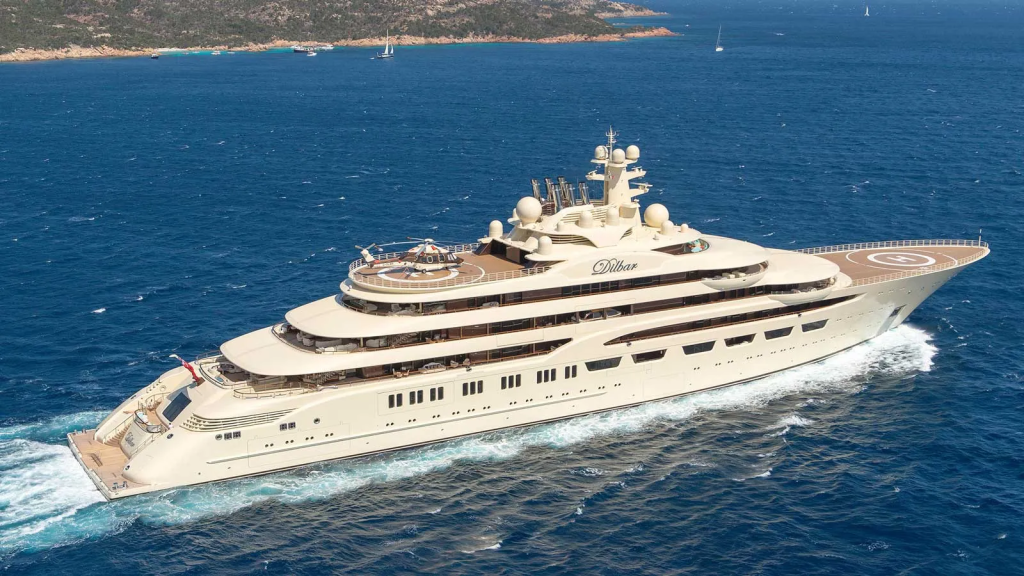 The pharmaceutical world at its finest: "In both trials, the antidepressant response to psilocybin was rapid, sustained and correlated with decreases in fMRI brain network modularity, implying that psilocybin's antidepressant action may depend on a global increase in brain network integration," the study reads. I am not sure, other than some healthcare professionals, who would actually understand what this trial studied, but upon further review it relates to the use of 'magic mushrooms' to improve everyone's mood. In today's world, once the FDA approves its use, psilocybin will fly off pharmacy shelves.
It is apparent, after watching this video, that most children are incredibly resilient. Sheltering in a bunker, this adorable young Ukrainian girl's version of "Frozen" went viral, attracting attention from Broadway and the worldwide media. Sweetness and fortitude all wrapped into one.
Adios, pay it forward, be safe, and have a Funday Easter Sunday!