NYC To Montreal In Less Than An Hour. More Vitamin D In 2023. "To The Moon, Alice, To The Moon." The Terminator.
---
$1.2 trillion is mind-boggling. It is only when you understand what the funds will be used for – can you somehow justify that amount of money the U.S. government will spend to fix and improve infrastructure. The infrastructure bill was signed into law and will be managed and allocated by the Department of Transportation. One area of infrastructure that will receive a massive amount of funds are bridges. Bridges that we cross every day, by foot, in cars, or on trains. Here is the eye-opener: There are more than 617,000 bridges across the United States. Currently, 42% of all bridges are at least 50 years old, and 46,154, or 7.5% of the nation's bridges, are considered structurally deficient. Yes, "structurally deficient." You may shrug your shoulders and say so what, until you remember the bridge collapse in the Minneapolis, Minnesota area back in 2007.
Fifteen years ago, the I-35W bridge over the Mississippi River in downtown Minneapolis collapsed, sending cars, trucks and even a school bus that were crawling over it in bumper-to-bumper rush hour traffic plummeting into the river below and onto the rocky shore. Thirteen people were killed, 145 more were injured, many of them seriously.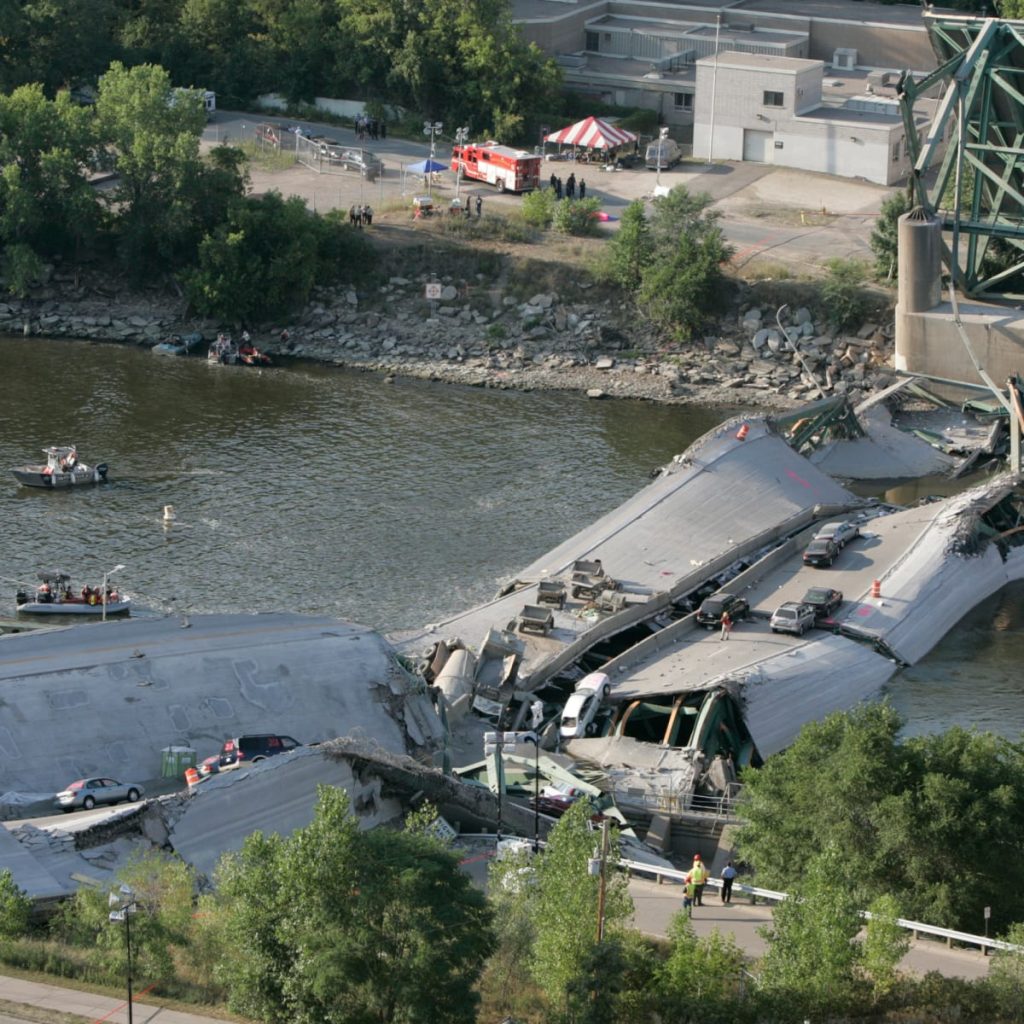 Which brings me to another transportation issue. Though entities such as Brightline are implementing 'high' speed train routes in a few areas of the country, how and why did the United States, with highway congestion on every major interstate highway, miss out on "bullet" trains? Just to name a few, how marvelous would it be to travel the Washington, D.C. to Philadelphia to New York City routes in less than an hour? What about San Diego to Los Angeles to San Francisco in under two hours? I have read the rumors of super high-speed trains in the works from different entities, including Virgin's 'Hyperloop', but how did we get here, or more pointedly, not get here? Many European and Asian train systems include super high-speed train systems, including Japan's L0 Series Maglev, the fastest train in the world, with a speed record of 374 mph. It could go the distance from New York City to Montreal in less than an hour.
The U.S. infrastructure system recently received a C- score from the American Society of Civil Engineers earlier this year. The bill signed into law will initially deliver $550 billion of new federal investments in America's infrastructure over the next five years…and with that said I cannot imagine the productivity, efficiency, and automobile fuel savings if the U.S. had invested in super high-speed trains years ago, similar to parts of Europe and Asia. A damn shame.
---
For the five and a half years I have been writing JustMyTake, twice a year I remind everyone of my excitement on the second Sunday in March, and my disappointment on the first Sunday in November. Starting next year, my wish finally comes true as daylight savings time will be year-round, eliminating the darkness at 5:30PM. Some friends think I have been way over the top with this clock-changing issue, but I stand firm that this change to permanent daylight savings time is a really good decision. Sure, there may be a bit of downside with the early morning hours still dark, but here is a list of benefits with extended daylight in the early evenings:
Robberies drop 7% overall as the bad guys do not like the extra hours of light in the early evening hours.
Extended light in the early evenings improves safety on roadways and reduces pedestrian fatalities by up to 13%.
Extended daylight hours have a positive impact on mental health by creating more opportunities to socialize and be active in the evenings.
Researchers report that daylight savings time promotes a more active lifestyle.
Not to be self-serving, but those extra hours of daylight have a direct correlation to my tennis game, as I can actually see the ball at 7:30PM.
The bill still needs to be approved by the House and signed off on by the President…hoping it is smooth sailing and I can happily drop the subject matter from my blog.
---
After ten years of development, NASA's Space Launch System (SLS) is getting very close to its first test mission, with this powerful rocket ultimately getting astronauts back on the moon. On Thursday and Friday of last week, the SLS left the Vehicle Assembly Building (VAB) and slowly made its way to the launch pad. If you have ever been to Kennedy Space Center or driven on I-95 near Cape Canaveral, there is no way you could not notice the VAB – the building is massive. Note: it took eleven hours for the SLS to make its way from the VAB to the launch pad. Fingers crossed that all goes well with the test flight in April.
---
A few short takes on things I think:
No one on the planet can tell me that Vladimir Putin is not a madman. A sick bastard with no moral character and definitely no self-esteem.
Even if you do not like college basketball, March Madness is a lot of fun. I cannot believe that it has been eleven years since Turner Sports struck a deal with CBS to telecast all tournament games.
Both soccer and non-soccer fans were shocked when the United States Men's National Team failed to qualify for the 2018 World Cup. Starting next week, the U.S. plays their final three-game qualification series. The outcome of these three games will again determine their fate to qualify for the 2022 World Cup, which starts in November in of all places, Qatar. On Thursday, the U.S. men face archrival Mexico at Mexico City's famous Estadio Azteca. If you want to watch a sporting war, watch Thursday night's game. This one will be nasty.
Some people do not care for Arnold. He may have rubbed people the wrong way when he governed California, or turned people off with the movie, "Twins." 🙂 At least he did make the effort to try and reach some Russian citizens and explain the realities of Vladimir Putin and his gone very wrong regime. Maybe The Terminator can make an unexpected visit to the Kremlin?
Adios, pay it forward, be safe, and Have A Funday Sunday!!