My Top Of Mind For The Last Sunday in July.
Yesterday marked one month since the tragic collapse of a Miami condominium building. The collapse on June 24 claimed at least ninety-five lives…and we hardly hear or read any further details on how and why the building collapsed.
---
While the news of the Miami tragedy diminishes, the media feels compelled to file stories on Brittany Spears, Alex Rodriquez, Ben and Jenny, and Angelina and Brad. Seriously?
---
Kudos to the Japanese Olympic host committee, the athletes, the support staff, and volunteers to pull off a competition that maybe should not have happened. Don't misunderstand my take…I enjoy the competition but the sequestering of athletes and zero fans at the venues is not what the Olympics are all about.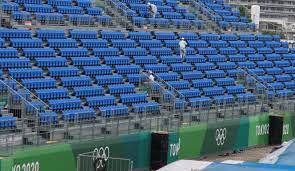 ---
Regarding the Olympics and the prohibited fan support, it is interesting to see how parts of the United States are in a complete 180° from Japan. Yesterday's attendance of 67,507 at Mercedes Benz Stadium to take in the Atlanta United v Columbus Crew game is one example.
---
I provided my viewpoint on "global warming" in the last week's post. I have not spent a lot of time researching the facts and figures, but the fires in the western part of the United States and the flooding around the world seem systemic. Does anyone want to chime in on their thoughts? (Please do not tie your comments to politics – thanks). Here is one area of the world under extreme duress:
---
It is none of my business whether people across the world decide to get the Covid-19 vaccine. That is a personal decision, but I will chime in with two bits of information that have nothing to do with political positioning or diatribes:
Data from Johns Hopkins University shows: The average number of new Covid-19 cases each day the past week was 32,278. That's a 66% jump from the average daily rate the previous week, and 145% higher than the rate from two weeks ago. More than 97% of people getting hospitalized with Covid-19 now are unvaccinated. 99.5% of deaths are among the unvaccinated, U.S. Surgeon General Dr. Vivek Murthy said Monday.
A doctor in Alabama had a harrowing message for those still unwilling to get vaccinated. Sharing how she has "made a LOT of progress encouraging people to get vaccinated," Brytney Cobia, a physician at Grandview Medical Center in Birmingham, detailed in a Facebook post how numerous "young healthy people" have been admitted to the hospital "with very serious COVID infections." "One of the last things they do before they're intubated is beg me for the vaccine. I hold their hand and tell them that I'm sorry, but it's too late," she wrote.
---
I am 'shocked' that the "hard seltzer" boom seems to be over. Come on, what is wrong with seltzer water, spiked with alcohol, with a substitute fruit nectar? I have sampled a few brands – and I just don't understand how these drinks became a real category in the first place. I know, I'm old.
---
It is a cliché, but time does fly. The wedding of Prince Charles and Lady Diana Spencer was forty years ago. Yes, 40. Forty-five years ago, Bruce Jenner, a.k.a. Caitlyn Marie Jenner, won the 1976 Olympic decathlon. Where were you and what were you doing in July of 1976 and 1981?
---
Adios, pay it forward, be safe and Have a Funday Sunday.