Read the Fine Print. We Got A Basketball Jones. Leave Or Stay…Just Make A Damn Decision. Bye Bye Cable. Winning On The Road. All Nine Children. Fill It Up.
The no-brainer of the week: many airlines are cancelling their orders for Boeing's 737 Max aircraft. Something about the lack of consumer confidence.
The NCAA basketball tournament is fun – especially in these early games. UCF takes on Duke later today. UCF has their 7'6″ center playing very well but I am not sure he can deal with 'The Zion' from Duke. #ZionWilliamson
With all due respect to Great Britain….we have had enough of the drama of Brexit. Forget the politics and religion and get on with a decision that is fair and equitable. Just get on with it. #Brexit
The #2 no-brainer of the week: as I have mentioned more than once the days of staying wired to a cable company's offering and ridiculous monthly pricing is steadily coming to an end. 'Cutting the cord' is now top of mind for many people, especially with digital offerings including the Amazon Fire Stick. Here are the latest metrics: People are fleeing expensive cable TV bills for digital media. They are cutting the cord in record numbers. According to research, net cable subscribers fell 4.1% during the last three months of 2018, a decline of 985,000 customers. This was reported in the February 22nd edition of Fortune. It is a no-brainer.
Orlando City Soccer Club (OCSC) – a force to be reckoned with? Yes, the New York Red Bulls roster was depleted due to injuries and international call ups, but going to Red Bulls stadium and winning on the road is huge. Nani, who has a massive international C.V., is now regaining his fitness and form. Dovetail his impact with a solid defense and a bit of luck and three points on the road is a great thing. Well done OCSC. Time to fill up Orlando's awesome soccer stadium next weekend. #OCSC
The perfect parent story of the week: The esteemed Governor of Kentucky, Matt Bevin, took his nine children to a neighbor's home. Not so much for play time but to expose his children to chicken pox, as one of his neighbor's children had contracted the virus. Oh, I get that you want to contract chicken pox as a child and not as an adult, but really Governor, that was your collective strategy? Can anyone say DFACS?
I attended the U.S. Men's National Team (USMNT) match against Ecuador on Thursday night. A beautiful night at an outstanding venue with temperatures hovering around seventy degrees. The U.S. ended up winning 1-0 against what I thought was an uninspired Ecuador side. That was part of the story of Thursday night but the other story is the U.S. Soccer Federation, who for some reason feels it is necessary to charge very high ticket prices for U.S. National Team games. Yes the men's national team, who fell out of favor with many American fans after their disastrous run up to last summer's World Cup with the end result of not qualifying for the competition. No one can convince me that this model of not filling up stadiums, including the Orlando City stadium with a capacity of 26,000, is a best practice to build back the fans (and TV networks) confidence in the national team. U.S. Soccer: if the pre-sale is under 12,000 on the day of the game, how about reaching out to the Boys and Girls Clubs of Central Florida, or the other organizations that can fill the stands with appreciative children? Charging ridiculous prices for USMNT games and leaving thousands of seats empty is asinine. Yes, the other side of the stadium had the planned "fill the seats" strategy for ESPN's cameras' line of sight, but the other side of the stadium was no more than half full. Below is the photo I took one minute before kickoff. In one word: stupid. #USSF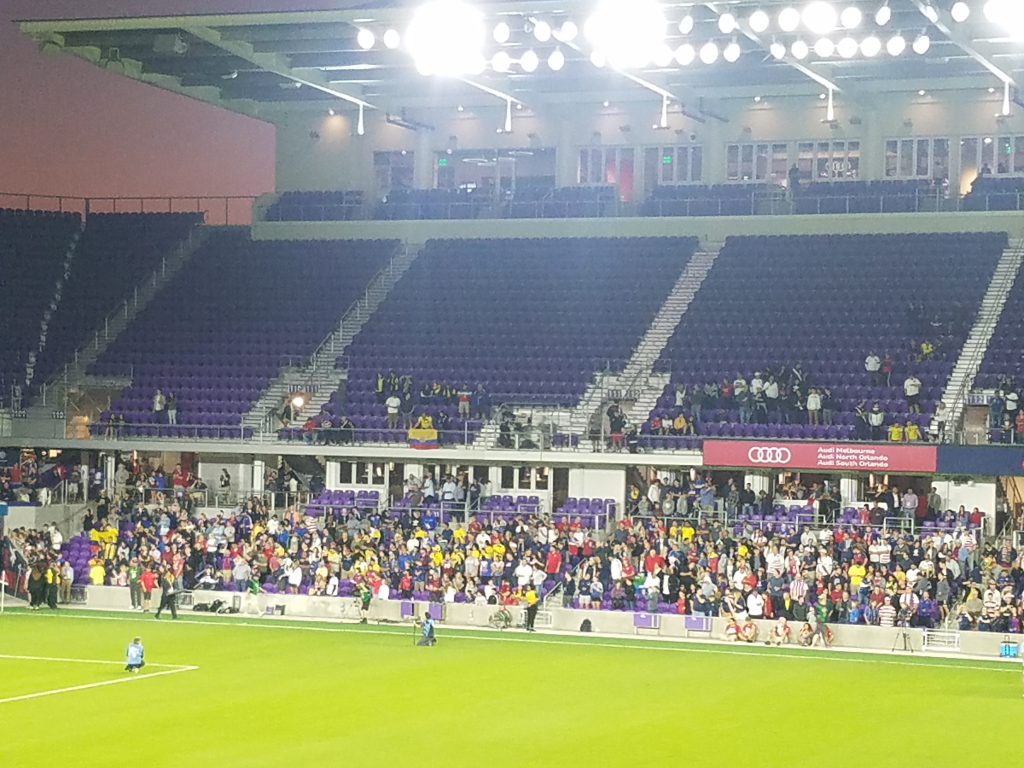 Adios and Have a Funday Sunday!!