Some Random Thoughts As We Head Into February. Why Competing Is Important. Darkness, Go Away. February 12th Entertainment.
---
The United States and other ally countries are finally sending tanks to Ukraine to help their armed forces ward off Russian forces. Does this action prompt Vladimir Putin to escalate his level of warfare and use strategic nuclear weapons?
The United States is sending thirty-one M1 Abrams tanks to Ukraine.
---
Electric automobile entities are betting big time on the consumer's appetite to move away from gasoline-powered vehicles (internal combustion engines). There could be benefits to electric over gas-powered cars, but this tidbit will not make the decision to switch any easier: The Anderson Economic Group is reporting that gas-powered vehicles, over a one hundred mile trip, are actually less expensive to operate than electric vehicles. Marketers at Ford and GM have some positioning to do as both companies are moving to electric car manufacturing in a big way, especially by the year 2030.
---
Not surprisingly, but unfortunately, it looks like the Israeli – Palestinian issues have again resurfaced. Terrorism just outside Jerusalem's Old City took the lives of seven people at a synagogue, of all of times on Holocaust Memorial Day, which commemorates the six million Jews and millions of non-Jewish people murdered during the Holocaust. Israeli Prime Minister Benjamin Netanyahu and National Security Minister Itamar Ben-Gvir visited the site shortly after the incident, both far-right protagonists who have zero tolerance with the Palestinian regime. This incident adds on to many others in recent weeks, a really bad indication that this could escalate into a another war-type conflict we are experiencing around the world.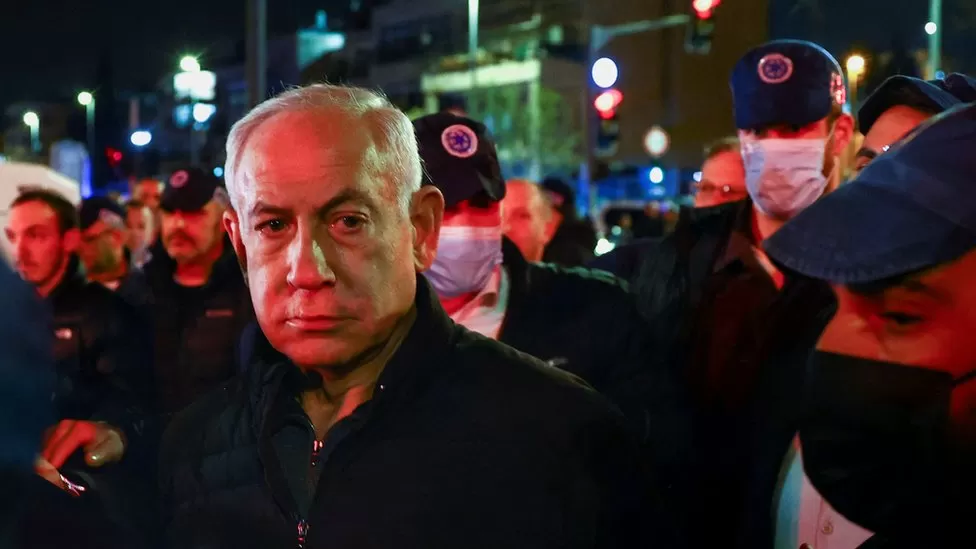 Israeli Prime Minister Benjamin Netanyahu visiting the site of Friday's terrorist attack – reportedly by a 14-year-old Palestinian boy.
---
California is trying to enact legislation that will raise the minimum wage to $22 per hour. My guess is that rate of pay will attract an older, and/or retired workforce to the likes of restaurants, bars, fast-food chains, and retailers. This is another in a series of issues the state of California is dealing with including immigration, floods, landslides, and fires.
---
Over the years, some of my friends have asked me about my high level of interest with the sport of soccer. I finally decided to put my thoughts on paper. The information below is my take and perspective:
I was fortunate to discover soccer at a young age. Raised in a sports family, I was encouraged to be competitive from day one. My dad loved sports but worked long hours, so he rarely had a chance to watch me participate in sports. I was lucky as my older brother decided that he would oversee my sports participation and eventually critiqued many of the soccer games I played from the youth level through college. My brother would make the effort to come watch my games, and in his thinking, if I did not play well, I was wasting his time and he was definitely not shy in questioning my commitment.
I was raised in a section of Southwest Miami where Lou Confessore (Mr. C) oversaw the local park and started one of South Florida's first youth soccer clubs. Coral Estates Soccer Club started in the late 1960's with the first team being under-10. Since this was the only team in the Club at that time, I got the chance to play with that team at six-years-old. What I do remember is being overrun and beaten down in practice and games, but as time went on, I learned to love the sport. My childhood friends, David and Pete, were influential with me learning to play and understanding the sport. I craved everything soccer, though in those days there was barely any soccer on TV. Fortunately, Miami had one of the first full-time Spanish language channels in the country, the infamous channel 23. My brother would track me down every Sunday afternoon as Channel 23 broadcast the Liga MX match of the week. He would watch the game with me every Sunday – our appetite for some soccer satisfied by these weekly Mexican league matches. We also had the privilege of watching Toby Charles host Soccer Made in Germany, which was broadcast on our local PBS station, but never on the same day or time.
Playing in the Coral Estates Soccer Club, I competed against the other start-up clubs in Miami including Key Biscayne, Cutler Ridge, Coral Gables, and Miami Shores. My playing career took me from Miami to Berry College, where I had the privilege of playing for Bob Warming, who is now a consultant with Union Omaha, a pro team playing in the United Soccer League. Bob's coaching career is amazing, ending his career ranked seventh all-time for career wins. Bob also gave me the opportunity to coach at the college level, adding me on to his staff along with another outstanding coach, Bret Simon, while we earned our M.B.A. degrees.
From college I moved to Atlanta and played in the ADASL with Lenny Luckett's Anheuser Busch club – which along with DataGraphics and Wolves were made up of many ex-pros and former college greats. A few years later, in 1995, I helped Rick Skirvin, the former Executive Director of Georgia Soccer, start the Rovers, an adult amateur team playing in the Cobb Amateur Soccer League (CASL). We started with an over-30 team, then an over-40 team, and then an over-50 team. We were fortunate enough to have some great players join the Club – again many ex-pros and former college stars. The Club now has eleven teams and the conservative estimate is that over the last twenty-eight years, 900 players have played on a Rovers' team one time or another.
A Major League Soccer (MLS) team starting up in Atlanta was icing on the cake for me. A great front office, an ever-changing player pool, and one of the world's best stadiums has made the sport top-of-mind for so many Atlantans. Atlanta United, over the last few years, has had many ups, and a few downs, but at a minimum they provide the city of Atlanta with top-level professional soccer.
Business took me to Orlando in the summer of 2017, where I enjoy the gameday experience and home matches at Exploria Stadium, where Orlando City of Major League Soccer plays its home games. Orlando City's ownership and solid front office provide head coach Oscar Pareja with a great player pool. I am a big supporter of Orlando City, and of course keep my eye on the latest happenings with Atlanta United as well as the other MLS teams.
Many men and women in the Orlando, Atlanta, and Miami areas have similar stories to mine. We should all feel fortunate to have experienced the sport at one level or another.
---
The countdown to daylight savings time has started. We are only six weeks away from early-evening sunshine!
---
The Super Bowl, just two weeks from today, should be a great game. We always look forward to the big game, the creative commercials, the national anthem, and the sometimes great halftime show. The NFL has done us a solid with Chris Stapleton performing the national anthem and twelve-time Grammy winning R&B legend Babyface performing the 'America the Beautiful.' Rihanna, with sales of over 250 million records worldwide, and now the second-best-selling female music artist of all time, will perform at halftime. She is all about pure entertainment and I know she will deliver in front of a sold-out State Farm Stadium in Glendale, Arizona, and an expected television audience of 105 million.
Adios, pay it forward, be safe, and Have a Funday Sunday!