Following In The Footsteps Of Queen Elizabeth II. Who's Laughing Now? The Carlos Alcaraz. "Bring Everyone"
She came to the throne in 1952 and gave seventy years of her life as the UK's longest serving monarch. Fifteen UK prime ministers served her, starting with Winston Churchill. Last week, in her last official ceremony, she welcomed new prime minister Elizabeth Truss. Queen Elizabeth II died last Thursday at the age of ninety-six. I did not know much about the Queen, but I did read some interesting things about the British monarch:
Queen Elizabeth II and her sister, Margaret, never went to school. They were tutored at home.
She was married to Philip for seventy-three years before his death in April of 2021. Philip was born into the royal families of Greece and Denmark but renounced his original titles when he married Elizabeth.
Over 80% of UK residents were not alive when Elizabeth ascended the throne.
During her seventy-year reign, she met fourteen different U.S. presidents.
Her stamina was amazing. In 2015, at the age of eighty-nine, Queen Elizabeth II carried out 341 royal engagements, more than Prince Harry, Prince William, and Kate combined during that year. She made more than 260 official overseas trips.
Queen Elizabeth's famous quote after becoming the U.K.'s monarch: "I declare before you all that my whole life whether it be long or short shall be devoted to your service and the service of our great imperial family to which we all belong."
She was only twenty-one when delivering this speech, not knowing in a few short years, upon the death of her father, King George VI, she would become the Queen. At twenty-one, I was lucky enough to put ten words together, nonetheless address the world:
---
Offspring. No, not the band of the 1990's, but the offspring of what I consider the greatest protagonist of all time. My friends gave me a good bit of raucous grief when I posted my Godzilla-King Kong comparison, lamenting my deep admiration for Godzilla. Well, who is laughing now, and more importantly where is this nasty creature's mother? Yep, stay in your lane and deal with it.
---
I have played (sort of) and watched a good bit of tennis over the years. I enjoy playing for all the good reasons including Vitamin D, a bit of exercise, and some good camaraderie. I usually do not enjoy watching tennis unless it is the U.S. Open or Wimbledon. I have admired the great professionals of the past, especially Jimmy Connors and John McEnroe, fierce competitors who fired up the crowd and left it all on the court. Sure, there are today's awesome players including Rafael Nadal, Roger Federer, and Novak Djokovic, but a new dawn has set on the sport, and his name is Carlos Alcaraz. He reminds me of a right-handed Rafael Nadal, while maintaining the demeanor of Federer and the fitness level of Djokovic. There is another discernible difference with Alcaraz, and it is called speed. Yes, Nadal in his earlier years was very fast, as was Michael Chang and Gael Monfils, but Alcaraz is gifted with that other speed that will set him up for success in the years to come. He is only nineteen and enters this afternoon's men's final at the U.S. Open as my favorite. This is one of many examples of his pure speed on the court:
By the way, the women's U.S. Open champion, Iga Świątek, is very much a carbon copy of Alcaraz, with amazing court coverage and tremendous court speed. She has now played in three major finals and won all three. Amazing.
---
This is my headline of the week, and can we just make Kim Jong Un go away? "North Korea will 'automatically' launch nukes if Kim killed" Seriously, how do the leaders of the world put up with this strange, unbalanced individual?
Congratulations to Orlando City for capturing the U.S. Open Cup. Exploria Stadium near downtown Orlando was rocking last Wednesday night.
I do not have to go into any extensive detail. Twenty-one years ago today.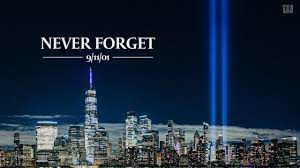 It is day two hundred of the Russian invasion of the sovereign nation of Ukraine. Yes, everyone, day two hundred. Is it time for everyone's Delta Force of Sylvester Stallone, Chuck Norris, Liam Neeson, Arnold Schwarzenegger, Jet Li, Charles Bronson, Clint Eastwood, Sean Connery, Jason Statham, and Jean Reno to pay a visit to the Kremlin? Yes, I listed Jean Reno, because there was no nastier badass than Reno in his role as Leon in the movie The Professional.
---
Adios, pay it forward, be safe, and Have a Funday Sunday!