Brand Recognition. Brand Promise. Brand Awareness. Brand Positioning. Brand Equity. Brand Fail.
By definition, a brand is a mix of tangible and intangible attributes, symbolized in a trademark, that can be managed to create value for organizations and customers. Marketers around the world, from consumer electronics to nano components to automobiles, help support their company or organization's growth using their brand(s) as a marketing platform. That platform helps deliver a branding strategy that for the most part is prominent across the business spectrum:
Focus on getting chosen – your product, your price, your packaging, your customer service.
Stake your claim – be very clear about your brand promise.
Choose your ideal customer carefully – be aware that not every customer values or appreciates your product or service and the way it's delivered.
Discover what's important and make sure your organization delivers – understand what your ideal customers want and need, and stay away from creating product or service attributes that your customers do not care about.
Make it easy to buy/acquire/participate – remove any and all barriers for your customers to purchase your products and services.
Those strategies or initiatives sound like the basic marketing block and tackling. The reality is that over my career I continually have found companies and organizations struggling to stay focused on these basic strategies, leading to failure to deliver on their quarterly and annual financial forecasts and plans.
This week's take stems from the issue that surfaced in the first episode of the Sex and The City reboot. Long story short, the Mr. Big (Chris Noth) character was killed off in the first episode after riding a Peloton bike. The next day, Peloton's stock dropped dramatically – but more importantly, Peloton answered on their brand promise. It resurrected Mr. Big with a TV spot featuring none other than Noth and Peloton instructor Jessica King. The dramatic advertisement, released Sunday and narrated by actor Ryan Reynolds, quickly blew up online, amassing more than 45,000 likes on Twitter and spurring a slew of headlines. Peloton's marketers capitalized on what initially was a public relations nightmare and with a smart TV spot and social media campaign, delivered their brand promise. Note: their stock reclaimed all initial losses after two days. Note: last Thursday, the ad spot was taken down from Twitter and YouTube due to allegations of sexual assault by Chris Noth.
A Detroit Auto Show experience. The show always starts off with the main exhibitors conducting a press conference, most of the time a high-end lights, sound, and video production. The year was 2009 and Dodge Ram decided to take their press conference outside (in January), to deliver a "one-of-a- kind" press event to promote their new truck. Note: Even twelve years ago, the Ford F150 was dominating the truck category.
Absolutely freezing outside, I was joined by 1,000 spectators who witnessed, in a word, fail. A cattle drive along the street in front of Cobo Hall did not resonate with any of the spectators, who sat awestruck as the cattle, including steers, broke through the barriers as Dodge Ram's VP tried to speak over the laughing crowd. In an epic turn of events, to top off this baseless press event, Ford had bought out the digital signage on the Cobo Arena, visible to the entire crowd, and ran ad spots promoting the Ford F150 as the #1 truck in America. I can't image the number of Dodge Ram staff and agencies who lost their jobs after this epic fail. Move the cursor to the 5:00 minute mark and you will see what is simply called a cluster —-.
Marketers throw around the word "optics". "The optics look do not look good" is frequently stated in response to issues and concerns with a person or entity or brand. How about this for 'bad optics?' Last Saturday, with the death and destruction caused by the devastating tornadoes across the U.S., an Amazon warehouse in Illinois was destroyed resulting in the deaths of six workers. Instead of Jeff Bezos taking one of his many private jets to Illinois, he was shown celebrating the launch and landing of his rocket in Texas. That is bad optics. A lesson learned.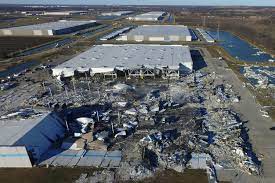 Speaking of a lesson learned, here is an example of a smart marketer who was very focused on his brand. I had the opportunity to design and build an outdoor pavilion exhibition stand for Patrick Ewing's 33 brand. His shoes, back then and now, continue to sell in many European markets, so the ISPO conference in Munich was a perfect marketing play for the promotion of his brand. Patrick Ewing could not have been more appreciative of the work that we put into the pavilion, and was of course very proud of his exhibition stand. I had other clients at ISPO, including the sports sock company Thor-Lo, and asked Patrick to walk with me over to Thor-Lo's stand in another building. He was more than happy to go with me and greet the Thor-Lo people, who were so excited that Patrick had come over to say hello. The big takeaway: when Thor-Lo asked Patrick to take photos with their group, the first thing he did was to turn and view the surroundings behind him. Why? He wanted to make sure that no competing brands would be seen in the photos – for all the obvious reasons. Brand was essential to Patrick – another big lesson learned for me.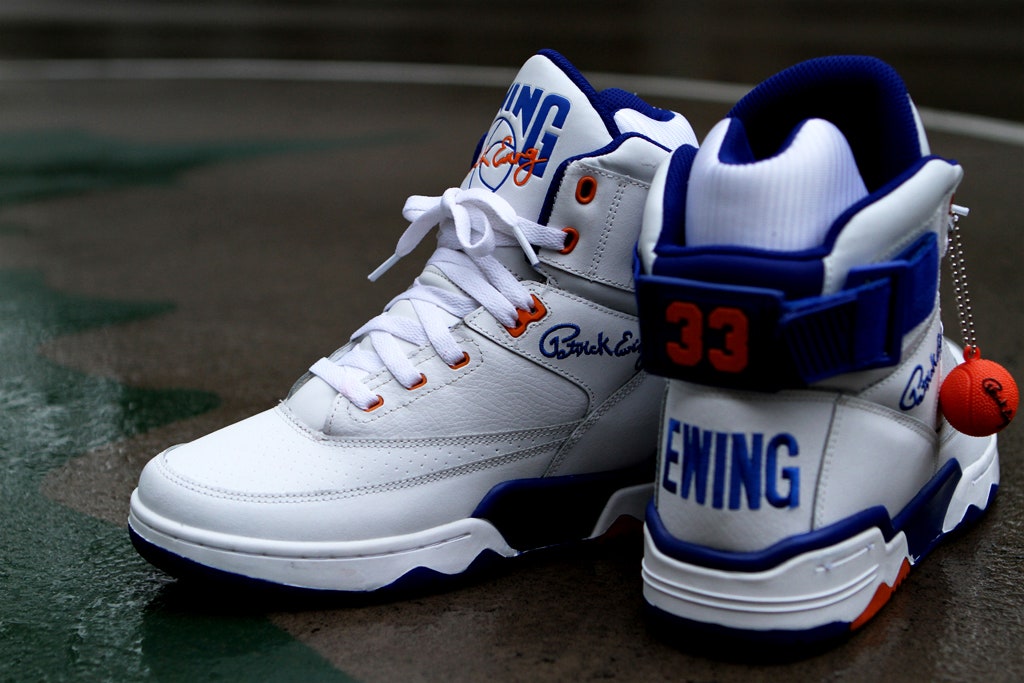 There are many examples of great brand strategy. No matter the product or service, the goal of brand strategy is to shape the perceptions of a brand's audience so that ultimately we can influence them. A brand strategy sets the plan for shaping those perceptions through different forms of expression…both visual and verbal. In summary, the definition of brand strategy: "A plan for the systematic development of a brand in order to meet business objectives." -Marty Neumeier, Brand Gap
Adios, pay it forward, be safe, and Happy Holidays to all.