How Did Florida Miss The Train? Gary, Let It Go. Pay Him. I Am Asking For One Day. The Countdown Begins.
Over the years I have heard many of my European friends and business associates, when traveling the southeast United States, comment on the lack of train service between cities and their venues, including airports. My friends' take is correct. While Miami's Metrorail and Atlanta's MARTA have their train systems running to their airports, Orlando, in their infamous wisdom, left Orlando International Airport off of the routes of their commuter rail system. Dovetailed with no service to the area theme parks, Orlando's SunRail system just seems to have missed in a big way.
Similar to Atlanta, Nashville and Charlotte, Orlando and Tampa's population is growing exponentially. Fueled by no state income tax, an ever-growing technology workforce, and tax incentives from the State, varied businesses tied to technology, the service sector, and the space coast are starting up or relocating quickly. It is amazing to me that civil planning executives from both Orlando and Tampa did not plan for train transportation to their airports. Fortunately, it seems like the private high-speed rail service in Florida, Brightline, has seen the light, and will connect Orlando International with Tampa International. With a bit of legislative leniency, Brightline's ultimate goal is to provide high-speed rail connecting Miami, West Palm Beach, Orlando, and Tampa. Better late than never.
I am not letting it go. In last week's post I expressed my exasperation with Warner Bros. Entertainment. The misguided representation of Godzilla and King Kong being the same height still does not sit well with me. So I ask everyone to join me in voicing their displeasure by dropping a note to Ms. Ann Sarnoff, Warner Bros. Entertainment's CEO: ann.sarnoff@warnerbros.com . She has not replied to my email. 🙂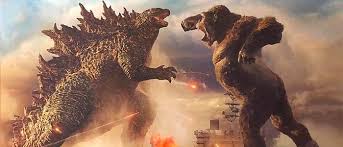 There is not argument. I favor the sport of soccer. There are many reasons, and without putting you to sleep, the main reason is that I was lucky enough to be exposed to soccer at a very early age. Basketball was also a first love, and I actually feel strongly that playing hoops helped me on the soccer field. Now we go to present day, where worldwide soccer has become the "flavor of the month" – a phenomenon fueled by the over-the-air and digital coverage of worldwide leagues and competitions.
With that said, I do want to comment on some news out of Barcelona and their famous soccer club. It is reported that Lionel Messi, long the club's megastar, is reportedly negotiating a contract, that with all compensation components, will pay him in excess of $170M annually. While some turn their noses to this amount of money, the contract does reflect the value of Messi to Barcelona as they look to regain their domination of La Liga (Spain's first division) and The Champion's League (Europe's annual club competition that yields massive money to qualifying clubs). Before you naysay, look at the salaries being paid to pitchers in Major League Baseball or the $7.8M average salary paid to players in the National Basketball Association. Professional athletes' salaries can be outrageous, but we only have ourselves to blame as eyeballs on televised sports yield advertising revenue allowing networks to pay leagues and their clubs a massive amount of money. When one of my friends challenged Messi's contract and value, my simple response to him is that Messi negotiated what the market will bear. Note: Barcelona enjoys approximately $50M annually from the sale of Lionel Messi jerseys. Yes, $50M.
I propose a world-wide holiday. A holiday that will regain some meaning, some time, and some sanity. A holiday that brings people together with a quick phone call, lessens volatile responses, and saves a good bit of battery power. A day that would bring some peace, no misunderstandings, and would allow all of us to really gather our thoughts. No Social Media Day. For twenty-four hours all of us refrain from Twitter, Facebook, Instagram, LinkedIn, and every other social media platform. Americans check their phones 96 times a day – that's once every 10 minutes, according to new research by global tech care company Asurion. Nearly 9 out of 10 Americans get offended when someone they're speaking with starts looking at their phone. However, three-quarters admit they've done it themselves. And, nearly 1 in 5 say they do this frequently. One day – is that too much to ask?
Speaking of time, every year, about a month into the new year, I start my daylight savings time countdown. So not only is this Super Bowl Sunday, but it marks five weeks until we turn our clocks forward. Daylight Savings Time: Let the Sunshine in.
Adios, Pay It Forward, Stay Safe, and Enjoy the Super Bowl.