Printing A Space Vehicle. It Is Time For A No-Tolerance Spring Break. I Have Questions. Willis Reed Overcomes.
Some deemed it a failure. I do not. After two unsuccessful attempts to launch, Relativity Space managed to launch its 3D-printed Terran 1 rocket from Cape Canaveral Space Force Station, but an issue with its second-stage engine prevented the ultimate orbital goal. I am not sure how anyone could deem this mission a failure, as the Long Beach, California-based startup hit several milestones on the mission including liftoff from the pad, hitting supersonic speeds, enduring maximum dynamic pressure, and a separation of the first and second stages…all with a spaceship that was 85% fabricated using 3D printing, including its engines.
Why did Relativity Space use one of the world's largest 3D printers to manufacture the rocket? The answer is both simple and complicated, but rockets now can be produced in a matter of weeks or months versus the years it takes to produce more traditional space vehicles. There is a key milestone Relativity Space is working hard to reach: Their CEO stated: "3D printing will be essential to long-term habitability in space and on the moon and Mars. Instead of waiting months or years for replacement parts to be shipped off to habitats, for example, astronauts will be able to print the necessary parts right there." The company's long-term goal, much like SpaceX, is to help establish human settlement on Mars.
---
My hometown is Miami, Florida. I have talked about Miami in my past posts, a vibrant and tumultuous city with a very wide range of socio-economics. When someone disses on Miami, I have always defended the city because good, bad, or ugly, it is one-of-a-kind. With that said, I get upset when I read headlines such as this one: "Florida spring break partiers see Miami mayhem while Fort Lauderdale avoids chaos." I am not naive to the ongoings of Spring Break, but when did this annual 'break from college' give these young people the right to be out of control, disrespectful, and in many cases criminal? I guess I could turn that statement around and ask why Miami/Miami Beach's city officials and police departments permit these young people to run rampant and wreak havoc? The question becomes even more profound when you read that Ft. Lauderdale officials stated that there were no major incidents during Spring Break, a city and beach once known for out-of-control partying. The facts from the Spring Break period of February 27 to March 19 in the Miami area: "There were at least 322 arrests, including at least 165 for violent felonies and drug-related crimes, and 70 guns were seized, according to the city's state of emergency declaration." To my hometown of Miami: it is time to stop this craziness for many reasons. Quit talking about it and just get it done.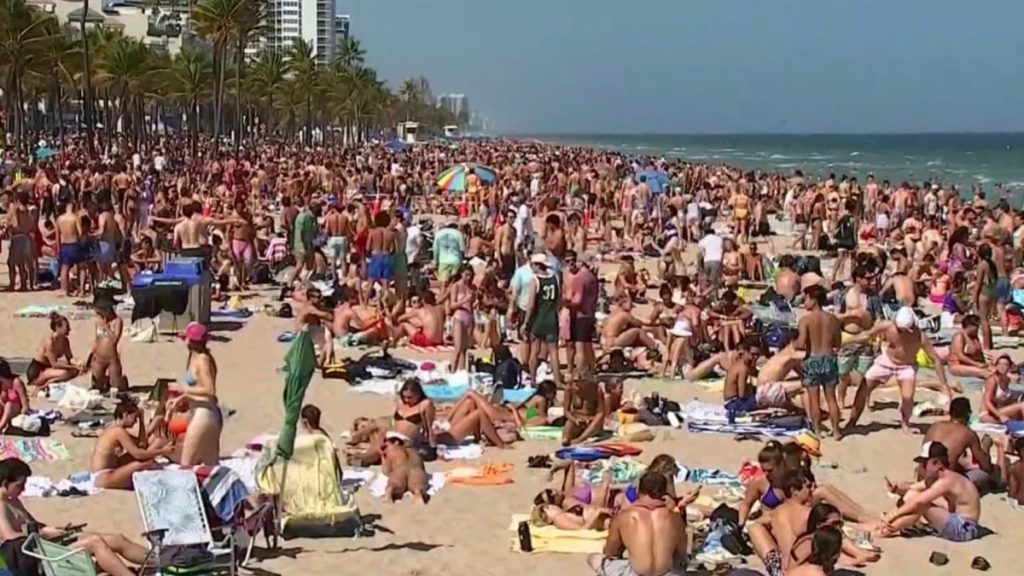 Massive crowds and many arrests during Spring Break in Miami Beach.
---
Questions for the last Sunday of March
Will the turmoil in global banking, with the collapse of Silicon Valley Bank and the takeover of Credit Suisse, be as bad as the global financial crisis of 2007-09?
How long will it take ChatGPT, as well as other AI information providers, to thread their way into the mainstream of everyday life?
When do girl scout cookies go on sale?
Who gets to send Michael Cohen and Rudy Giuliani to a long-lost island?
Will synthetic fuels for automobiles cannibalize electric vehicle sales?
Is John Wick: Chapter 4 too much of a good thing?
Did the International Criminal Court's warrant for the arrest of Vladimir Putin hit a dead stop?
Will the U.S. need to deploy their new B-21 Raider, capable of delivering both conventional and nuclear weapons, to a few hotspots around the world? Based on last week's tragic event, Syria certainly comes to mind.
---
The memory of what happened in this NBA game is forever embedded in my mind. My dad and brother were huge New York Knicks fans so we watched the Knicks play against the Los Angeles Lakers. The Knicks' Willis Reed, a 6′-10″ center/power forward from Grambling, had a knee injury during this NBA championship series. The Lakers were loaded with great players, Jerry West and Wilt Chamberlain to name two, and without Reed in the seventh and deciding game, many felt that the Knicks had no chance. I will never forget when the injured Willis Reed unexpectedly made his way onto the court at Madison Square Garden. Willis Reed spent his entire career with the New York Knicks as a player, coach, and general manager. He was inducted into the Hall of Fame in 1982 and in 1996, he was voted one of the "50 Greatest Players in NBA History". Reed passed away last week at the age of eighty. RIP Willis Reed.
---
Adios, pay if forward, be safe, and have a Funday Sunday!