What Would Tata Do?
At the suggestion (or demand) from a few readers, I have stayed away from the subject of soccer for many weeks. I will go back into the subject once again to give you my take on Frank de Boer, Atlanta United's coach, who took over for the beloved Tata Martino. Just some facts: Atlanta United is coming off last year's championship season. Martino left the Club to become Mexico's national team manager. Miguel Almiron, United's most important and impactful player, left the Club as he was purchased by Newcastle United of the English Premier League. Another key player at times, especially late in the season, was Greg Garza. His ability to affect the game from his attacking left fullback position caused opposing teams to lose their shape as Garza was a force coming down that left flank. Post season the club traded Garza to Cincinnati, a new expansion team. With the loss of their manager and two impact players, United hired Frank de Boer, a Dutchman with experience as both a player and manager.
Whether it be business or sport, new leadership most likely dictates a change in management style, expectations and culture. Frank comes from Europe, Tata from South America. Differences with their leadership style were always going to be questioned by the players, media, and the fan base, as well as the player selection and formation employed by Frank. No new leader likes-for-likes the exact dynamics of their predecessor – they bring their own style, strategies, and in most cases a new (coaching) staff.
Players have spoken out about the culture and playing style differences, and some of the fan base are irate with player selections and the defensive style of play. I guess there are a lot of short memories out there. As mentioned, Miguel Almiron left the club. Greg Garza was moved on. Due to qualifying for the CONCACAF Champions League and the U.S. Open Cup, the compressed schedule of games is borderline ridiculous. And most importantly, Frank has had to deal with numerous player injuries, which has caused a myriad of problems considering the schedule of games. Franco Escobar, Kevin Kratz, Mikey Ambrose, Ezequiel Barco, Pity Martinez, George Bello, Florentin Pogba, Tito Villalba, and Brek Shea have all missed significant playing time. Nine players have not been available for many games, no Miguel Almiron or Greg Garza, and a very compressed schedule. Never mind a few of our players who missed games due to national team playing assignments.
Then there is the Pity Martinez dilemma. Pity came to United in the off season heralded as the South American Player of the Year. Unfortunately, his short tenure with United has not been what was expected by the fans, the media, and more importantly the coaching staff. Yes, coming to a new club in a new league and in a new country is not easy. With that said, Frank has given this young man the runway to get acclimated to his new teammates and surroundings. It is now up to Pity to show his abilities – for 90 minutes and not short spurts like he has done to date. Work rate and attitude come to mind as being problematic and we can only hope that Pity snaps out of whatever is preventing him from playing well, game in and game out. Frank can only be tolerant to a point.
There are groups out there that are calling for Frank's head. They want the Club to replace a manager that has dealt with all the talking points described above. Reality is that the team sits near the top of the Eastern Conference with a game in hand. Seven teams in the Conference will make the playoffs. United's player pool is getting healthy once again with Barco, Villalba and Pogba now available. Some of the fans called for a walkout of this afternoon's game with LA Galaxy. A walkout on a team that is three points out of first place in their conference…with a game in hand?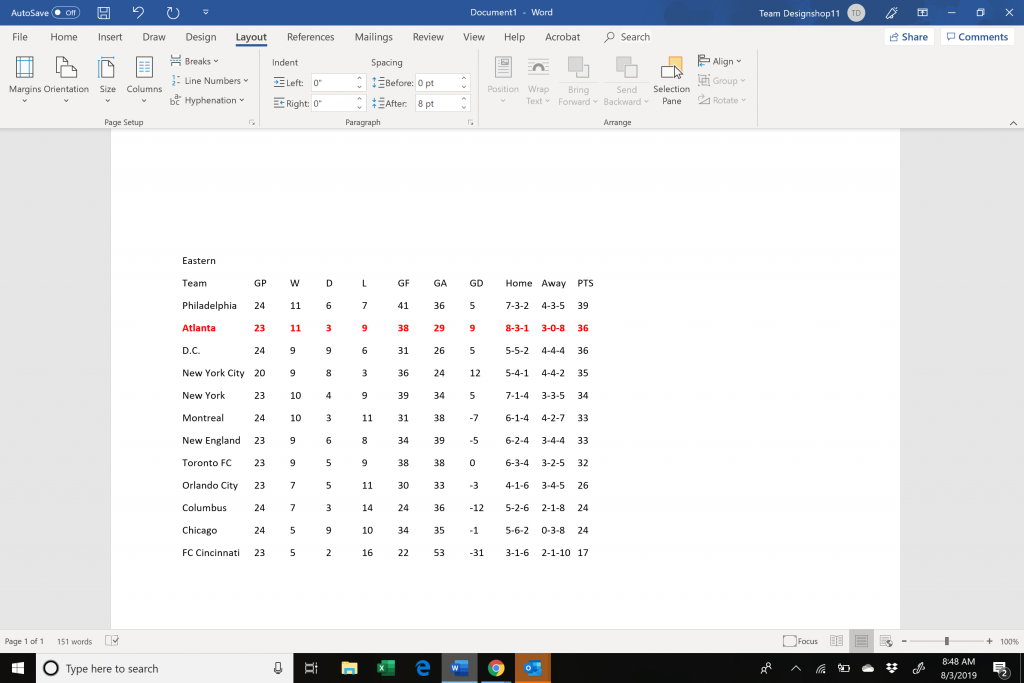 My question to all of you: under the exact same circumstances……WHAT WOULD TATA HAVE DONE? My take is exactly what Frank has done. #ATLUTD
Adios, pay it forward, and have a great weekend.